Secure : Browse Only Website : Advertisement : Contact sq@eson.biz

SprayShield.UK

Do you want your external surfaces looking new ALL the time? Of course you do

Unique, our zero-impact process is lasting and is the best. It restores the old and protects the new - LOOK !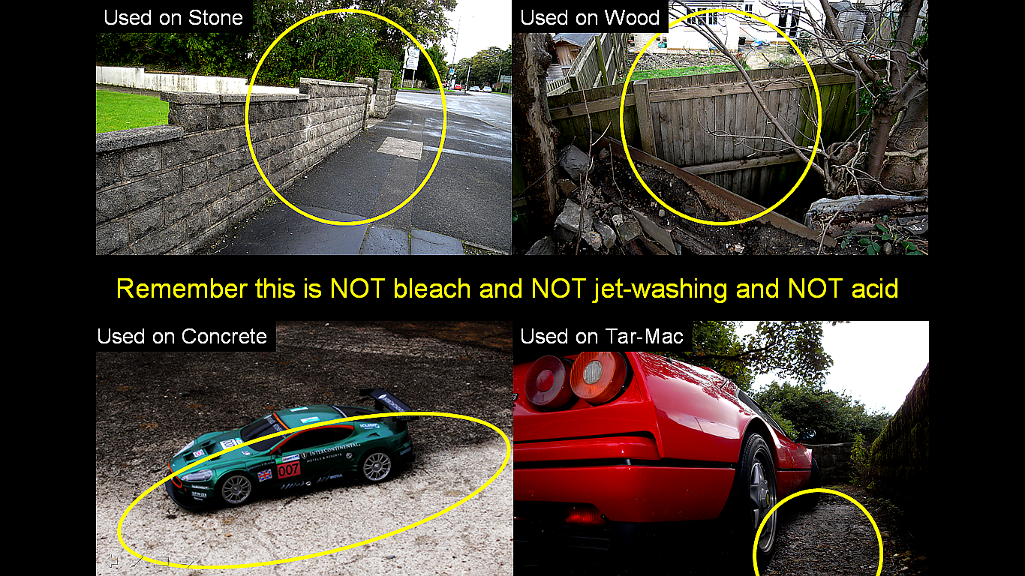 e-mail "sq@eson.biz" to be scheduled in for 2019-2020
Just £3.00 a square meter, read on! - UK Government qualified. Further, legally qualified to spray near and into water courses such as
hardstandings with drainage, rivers, ponds, lakes, runoffs, drains, ditches, sewers, gutters, wells, reservoirs and so on
A lasting gentle Non-jet wash Non-bleach Non-acid Non-UV cleanse and brightening back to as new of any external surface
SprayShield is an anti-organic treatment. Physical rebuilds and non natural contamination are not in scope
SprayShield kills off and removes that unsightly and slippery organic contamination over time AND it sanitises surfaces too
SprayShield immediately protects new/newer surfaces via molecular repulsion - It is like an invisible magnetic force field
Tyre, Human and Animal safe for any commercial/professional/leisure activity
Road, Race, Track, Drag, Hypercar, F1 and any Hardstanding or Building
Buildings (modern, listed and ancient) and monuments too
White paint next to trees and shrubbery - 5 years and still not affected by 'green'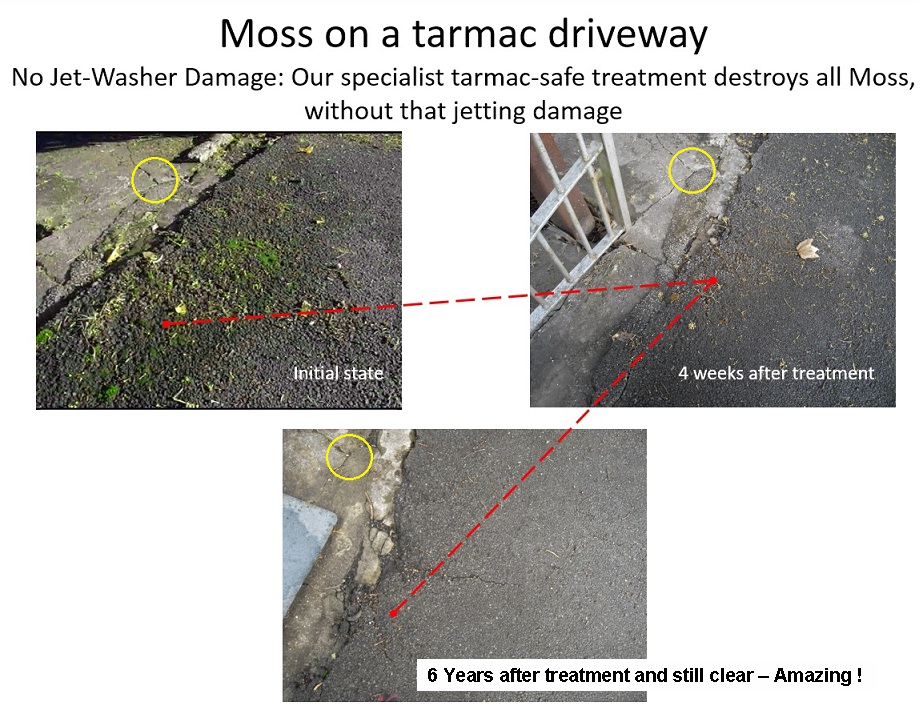 100% safe. Biodegradable, environmentally and ecologically friendly liquids
Zero Carbon site footprint via silent zero emission application sprayers
*£3.00 per square meter treated - Ultra qualified and equipped from heights to water and water-ways
*£0.50 per mile travelled round trip from Swansea inclusive of chemical precautions
Once every 3 years or sooner treatments recommended - HSE COPR regulated fluids - Water based
We are trained and capable to treat entire mountainsides with appropriate support and budget
We bring enough water for 160 square meters of coverage + our liquid treatments - then we need additional top up water
Unless tap access is provided by you, clean water provision, by tanker for example, will be additionally charged at just cost

1 litre meticulously reconditions/protects an amazing 2 square meters as a safe minimum using our qualified professional sprayers
* Prices reviewed and correct as of August 1st 2019
All circumstances can more than likely be accommodated so contact us to discuss, easy peasy
"A remarkable totally effective, totally safe, zero carbon footprint treatment"
We recommend annual treatments as due diligence and best demonstrated practice
Ancient monuments and listed buildings can be safely and gently treated too
Applied by experienced college qualified sprayers our treatment is
convenient, silent, fast, non-jet wash damaging thus gentle
New & Just cleaned surfaces : Treatment to be applied ASAPossible as
an immediate 100% repulsive lasting barrier
AND
'Dirty' and Slippery and Unsightly external surfaces silently treated anytime
See the remarkable non-damaging outcome and enjoy the benefit for years to come
Not detrimental to any car tyre performance . . . Stephen Quinn BSc(hons) DIS TnISPE(Cert.) PAnn :
Non-jet wash Non-bleach Non-acid cleanse and brightening back to as new of any external surface
.
My Unique Professional Certificate Numbers are 76727n and 77323n and 79501n : I am Police Checked
One of the many training course's attended to become a licensed professional sprayer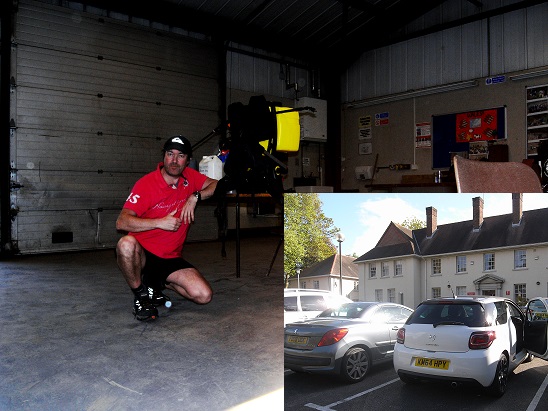 CONTACT US: Telephone / Text on uk mobile 07890 2 999 13 : e-mail me sq@eson.biz
Police Checked
Looking a bit serious while preparing for a rope safety access treatment - Full kit adorned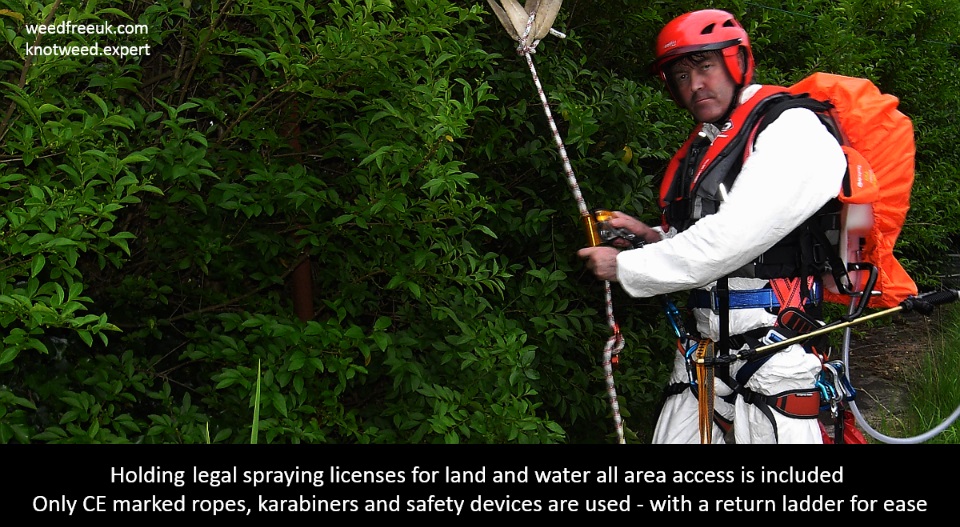 LINK . . . GOT WEEDS ? : We are also government examined professional weed/knotweed control including into waterways
>> We have several other beneficial activities as well - Click to see our eson.biz (the best there is?) <<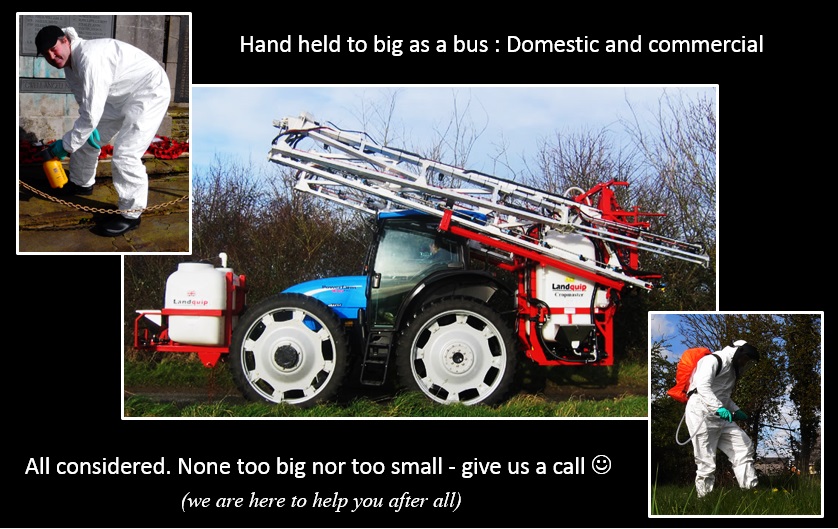 ( Above : Sympathetically spraying a local cenotaph; Tractor mounted sprayers; Lawn area maintenance )
We support the LEAF initiative just like: The Crown Estate, Unilever, Woodland Trust, BASF chemicals, Bayer Crop Science, Crop Protection Association,
DOW, Environment Agency, NFU, National Grid, RSPB and more.
Experienced Professional, Professionally Trained, Officially Examined, Government Certified – Insured
Also
LINK: Poolaid.co.uk ® Qualified swimming pool maintenance (ISPE examined and certified)
For clarity, all expectations, work and costs are pre-agreed, documented via a
single sheet customer agreement form and signed and held by both you and us
Residential and / or commercial property
Terms on an individual basis - e-mail me sq@eson.biz or text/speak to me on UK mobile 07890299913
Website content subject to change without notice
by Stephen Quinn BSc(hons) DIS TnISPE(Cert.) PAnn
FREE: With every job we complete if possible supply a comparative background natural radiation reading when possible
-- looking forward to making, and even keeping you happy --