Secure : Browse Only Website : Contact sq@eson.biz

Got a Knotweed worry or Knotweed problem? . . . Good - Welcome to

Knotweed . Business

by

Knotweed . Expert

Below - Asked to be treated properly by us . . . new August 16th shoots late in the season from prior unqualified treatments.

Then in August 16th one year later, we confirm we really have eradicated the Japanese Knotweed.

Another success and a verry, verry happy landowner and all for just £600.00.

My Professional Qualification Certificate Numbers are 76727n and 77323n and 79501n : I am Police Checked
"Treatments are confidential between you/the client and us "
DO NOT TOUCH THE KNOTWEED YOURSELF (for optimum treatment assessment and legal reasons)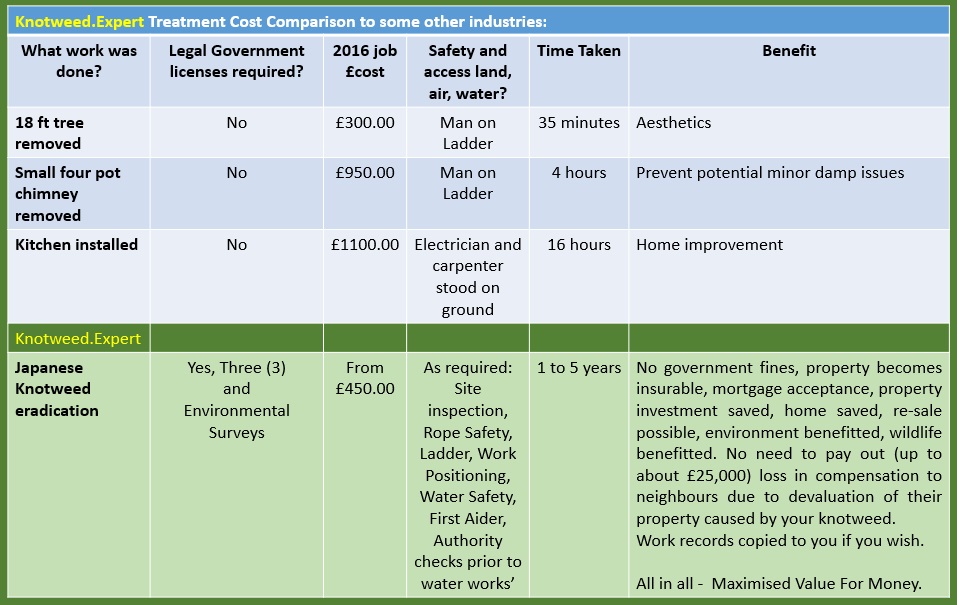 Start treating your knotweed NOW to avoid price increases and property damage - We are true value for money
Start treating your knotweed NOW to avoid having to pay £compensation to neighbours when they try to sell
The court case outcome that will affect knotweed owners from now on
(If you are a victim of knotweed fear not - our prices are the lowest but we perform 100%)
CONTACT ME ASAP TO CONTROL AND KILL YOUR
CONTINUALLY GROWING JAPANESE KNOTWEED PATCH
Tel/Text uk mobile: 07890 2 999 13 and/or e-mail my personal inbox: sq@eson.biz
We can access and legally treat Flat Land / Inclines / Any Water Body / Riverbanks – Or Anywhere (Government Registered).
The speed of modern purchasing and couriers allows us a bare minimum of personal equipment yet providing for all scenarios.
Our primary brands for professional Personal Protective Equipment (PPE) are DMM Wales, ISC Wales, Petzl, Beal, LYON steel and Grivel.
Our specialist bespoke proprietary equipment will be utilised where ground fire / explosion risk and or electrical risk is present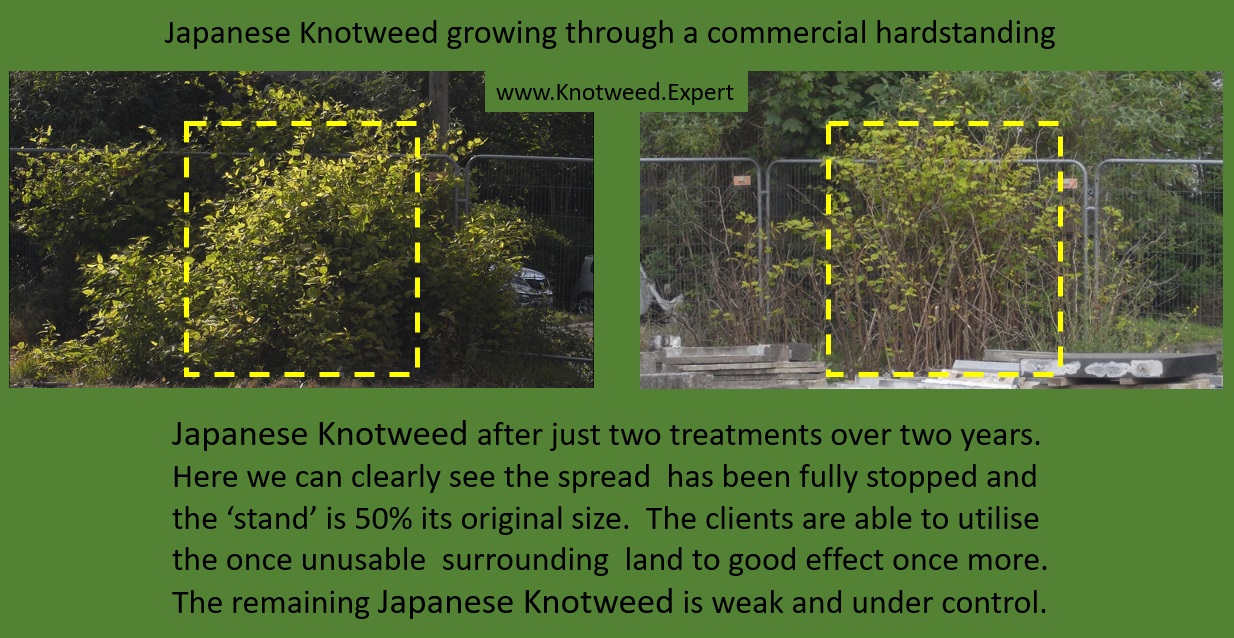 CONTACT ME ON . . .
Tel/text Uk mobile 07890 2 999 13 (no answerphone due to irrelevant cold calls)
Or e-mail my host web domain sq@eson.biz with your subject as Knotweed or Invasive as we can treat all in any location
CASH FOR YOU as a finders fee if you get me work that when done is paid for too !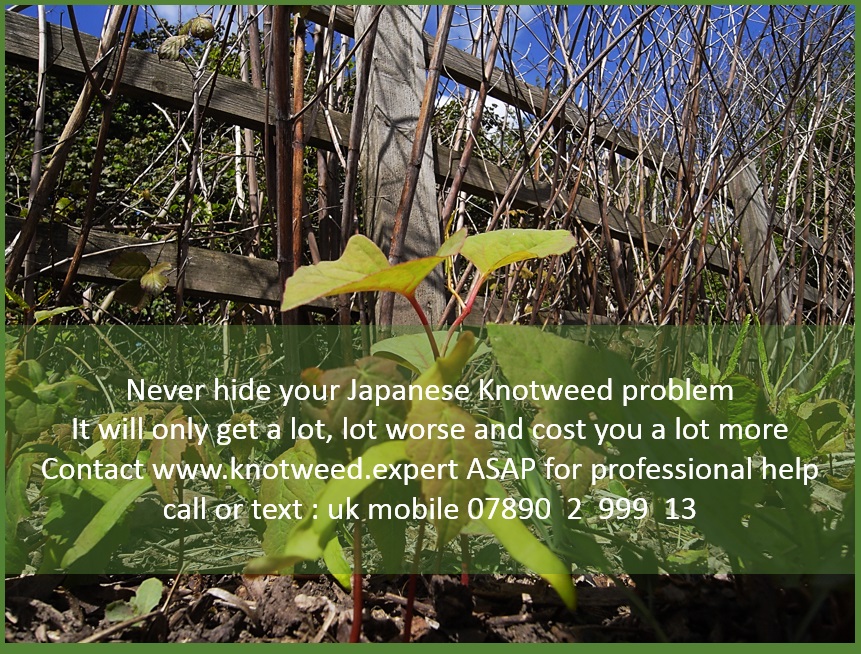 " beneficial knotweed treatment and prices for you, the down to earth people of this world "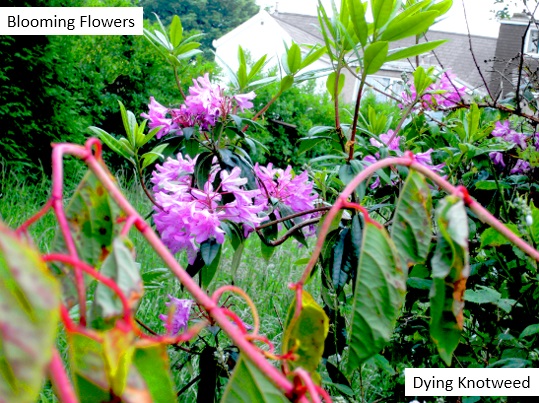 " We can treat all knotweed and all other invasive infestations even ones right next to treasured plants and crops "
Professionally trained. Professionally certified. Insured. BDP compliant - The best?
>>> Our tailored procedures do not kill off wildlife - We support LEAF, Linking Environment And Farming <<<
>>> All our hardware is in compliance with the UK Sentinel Commission's recognised scheme to prevent internal use on human beings <<<
One of the many (expensive) training course's attended to become a licensed professional sprayer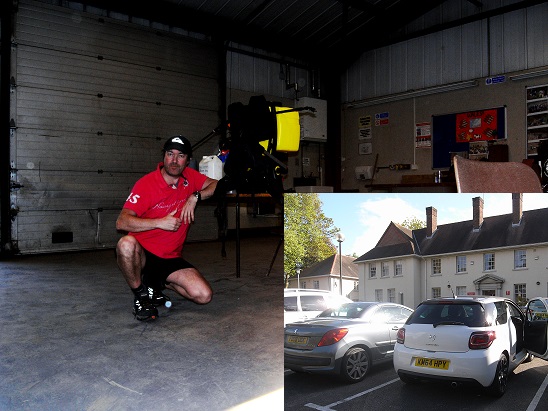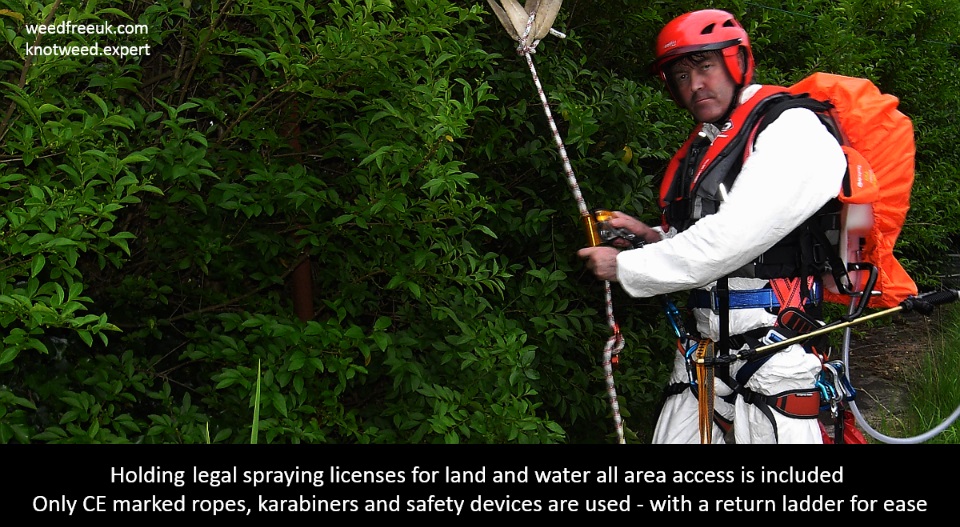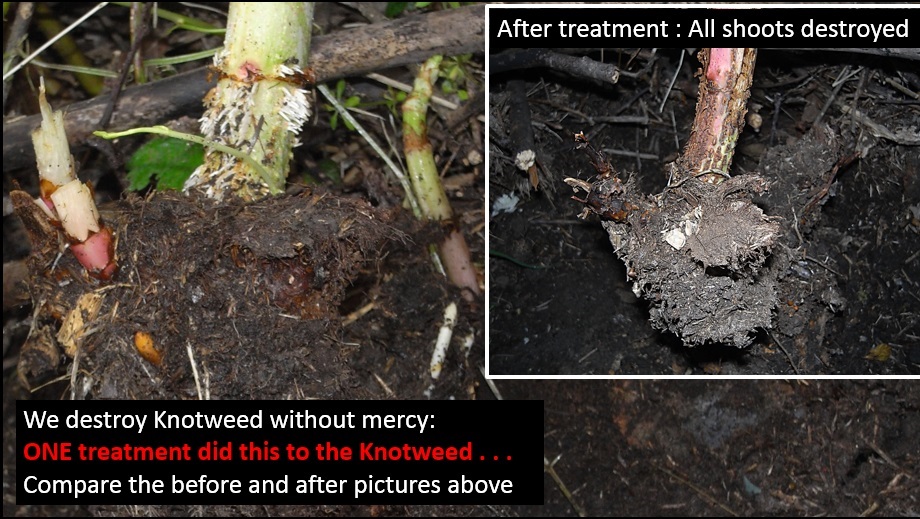 On the job at a knotweed boundary - Stopping the spread, dead!
(This virulent knotweed 'Just appeared' and is seen behind my left hand shoulder).
The remedy? - A specialist process of our own really kills the knotweed in one visit if speedy results are what you need.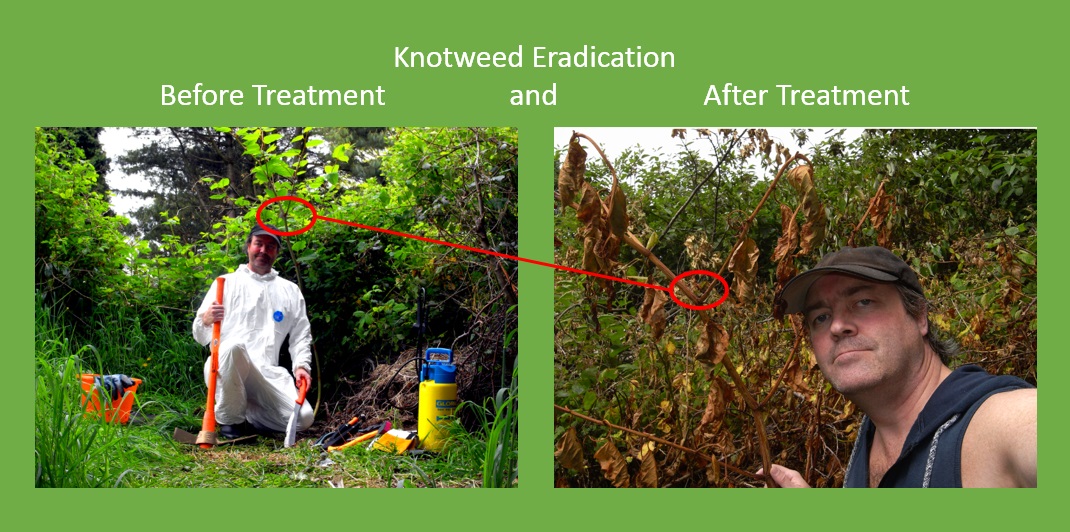 Very young leafy knotweed and very young pointy knotweed side by side!
If you see this in your area of responsibility call us ASAP to treat.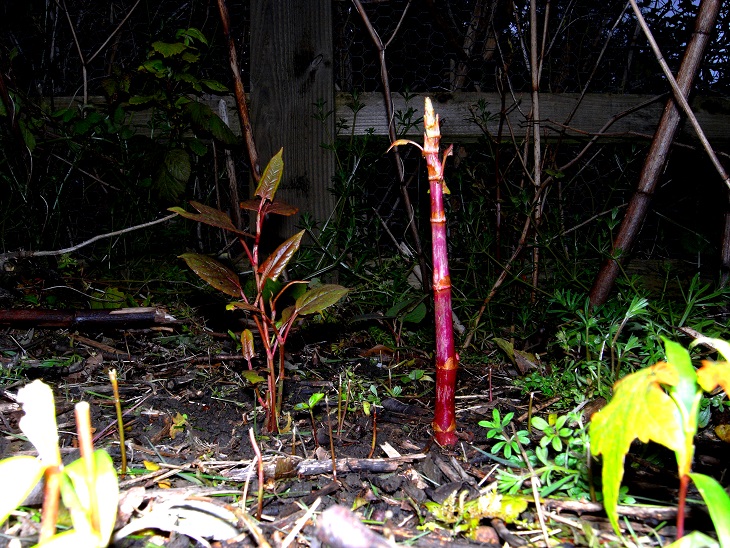 REWARD OFFERED: If you get us a job, when we get paid YOU will receive a £Finder's Fee in
British Pounds Sterling! (we can't be everywhere looking to treat after all so your help is welcomed)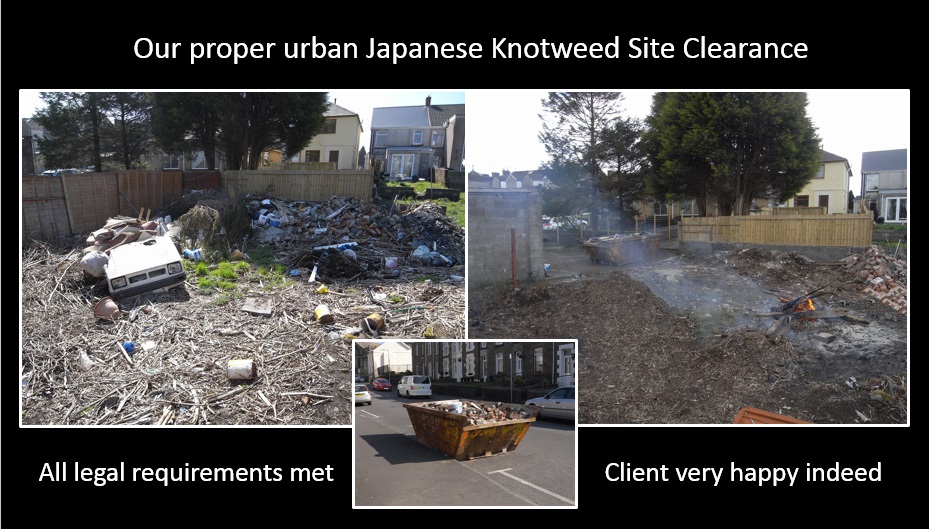 The problem with knotweed is that it spreads and grows, taking over our lands, with nothing natural in the UK able to stop it

People buying or selling houses can come to a dead halt if the mortgage company finds knotweed anywhere on the property

Our own natural plant life and riverbanks are being ravaged by the knotweed growth onslaught – it's not even a British plant!

Really bad is the fact that if knotweed is treated at the wrong time during even a month the visiting wildlife will also be killed

www.Knotweed.Expert aka www.Knotweed.Business really does endeavour to rid you of your green problem not your wildlife

National Press >>> October 2014 You face a fine, a criminal conviction and will have to pay to have knotweed dealt with anyway!

National Press >>> February 2015 - Police called in to effect an arrest for aleged illegal disposal of Japanese Knotweed

Fear not, contact with www.Knotweed.Business is all you need - we'll legally do everything we can for you

Quote: " According to the Home Office, failure to act could leave the homeowner facing a Level 4 fine which at £2,500 at the time of writing. "

" If a company fails to act they could face a £20,000 fine."

But in early 2017 a case study in law further burdens the owner of the Japanese Knotweed to compensate neighbours for pertaining loss

The court case outcome that will affect knotweed owners from now on

(If you are a victim of knotweed fear not - our prices are the lowest but we perform 100%)

Riverbank Knotweed inspections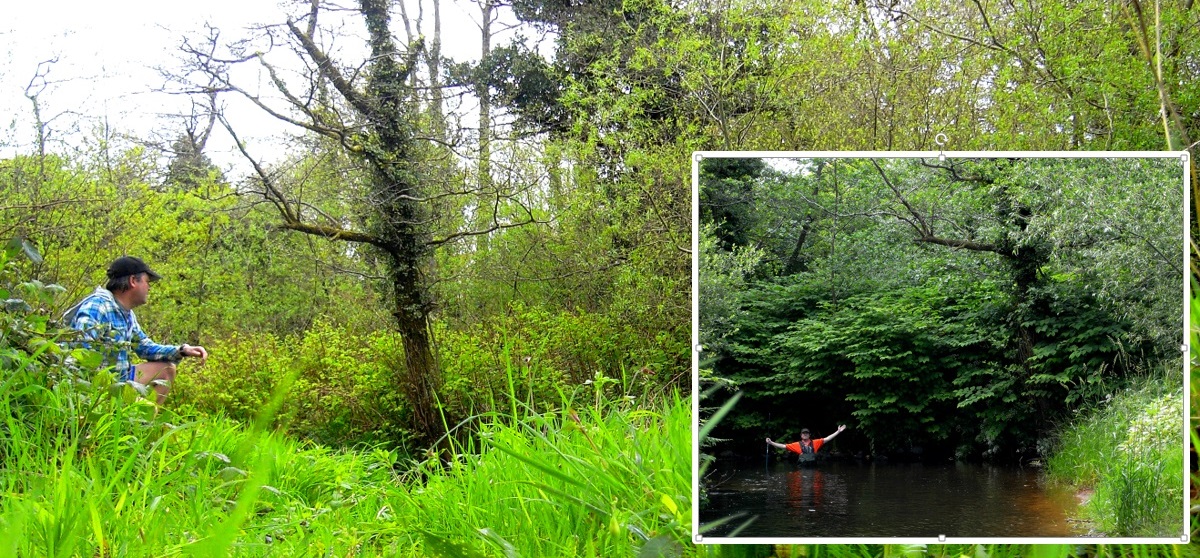 >>>> Also SMALL AREAS and SINGLE SHOOTS treated - Call to discuss your £knotweed problem <<<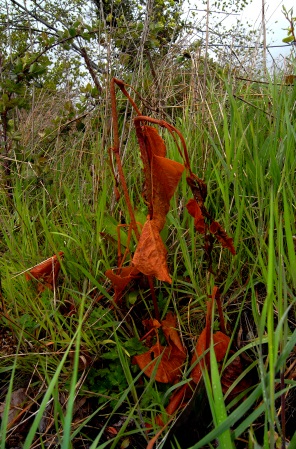 >>>> UNLIMITED annual TREATMENTS <<<
Area charge from just £600.00 per annum per 169m2 plus agreed expenses - Cost effective not a rip off
Big areas will receive a negotiable reduced charge as part of the cost is getting my kit to the site
>>>> SITE CLEARANCE - Non Hazardous Waste guarantee <<<
Rubble is cleared from £600.00 per day - all waste is treated then placed into skips you supply
>>>> EXPERT CLERK OF WORKS for ON SITE SUPERVISION and ENFORCEMENT<<<
We provide a clerk of works at your site to enforce the legal requirements during third partie's knotweed clearances
to government Prince 2 standards for £600.00 per day plus agreed expenses
Our treatments for you, big or small, are legally compliant . . .
You will have no 'comeback'
CONTACT ME ON . . .
Tel/text Uk mobile 07890 2 999 13 (no answerphone due to irrelevant cold calls)
Or e-mail my personal inbox sq@eson.biz - We can treat all in any location
Stephen Quinn BSc(hons) DIS TnISPE(Cert.) NPTC(PAnn)
Professionally Examined : Professionally Qualified : Professionally Certified : Professionally Insured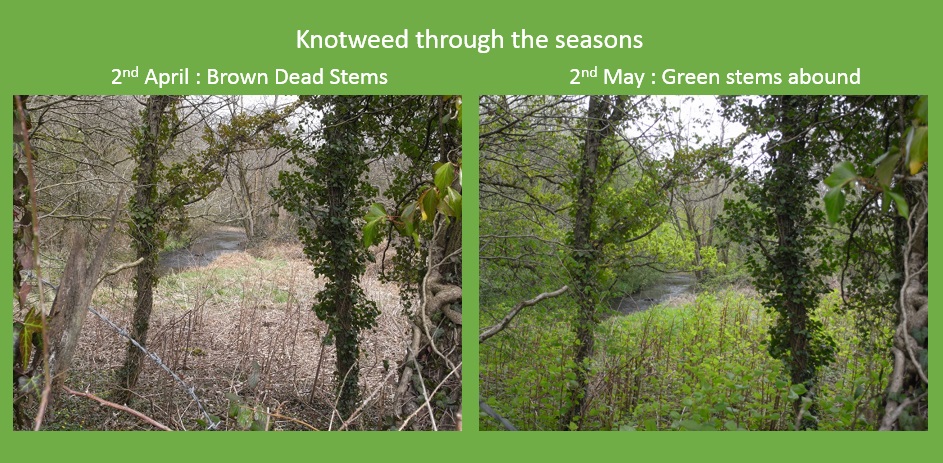 Knotweed treatments are also operational under www.weedfreeuk.com but at the prices on this website
Ultra specialist Knotweed and Woodyweed treatments for swimming pools and adjacent areas . . .
As an examined, qualified and insured swimming pool maintenance tech'
superb flora control expertise in any pool/non pool area is now available to you.
This site is continually updated with case studies, agreeable people and research data - feel free to visit as often as you wish
Terms on an individual basis : This website and physical operations subject to change without notice from 2015 to 2099
All imagery and artworks herein are sole life copyright 2015 Stephen Quinn
READ ME:
By reading this website you accept: All price and qualification/legal operational requirements given herein is in the experience and opinion of Stephen Quinn and may or may not be in tandem with the experience and view of you, the reader, or tradesman, thus this website content is not definitive and should be read as a considered opinion only from my experiences, the experiences of Stephen Quinn